69th Annual PCSS Conference
October 20-21, 2023—Save the Date/Register Early
The 69th Annual Conference of the Pennsylvania Council for Social Studies
will be held at various sites in Pittsburgh this October 20-21, 2023.
Our conference theme is
 

Forging the Future of Social Studies.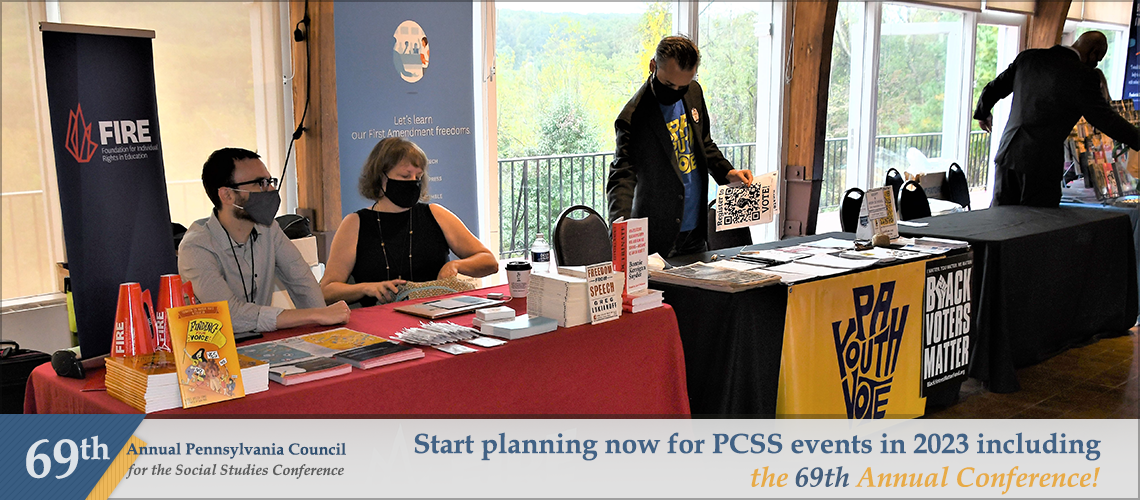 All New Format
The Friday afternoon and evening, all day Saturday, conference format is a new one for PCSS.
Friday will bring a day highlighting Pittsburgh's rich social, cultural, and industrial history and local opportunities for social studies educators, starting with tours for people who are coming in early at Carrie Blast Furnaces.  Later in the day, there will be an Opening Ceremony event with an awards reception, the celebration of past PCSS presidents, and a parade of presenters and sponsors, all held in a unique and historic location in Pittsburgh. 
Hotel Reservations
Our conference hotel is (Courtyard Pittsburgh West Homestead/Waterfront (for $140 to $150 per night)
Book our group rate for PCSS Conference
There is a deadline of 9/19/23 for the room rate.
We will have driving directions available for going from the hotel and back for the Friday evening and Saturday events, and there is ample parking at all locations being used for the conference.  Bus travel to and from the Saturday sites will be provided.
Saturday begins at the Soldiers and Sailors Museum with a continental breakfast sponsored by longtime PCSS exhibitor Veterans National Education Program.   Keynote remarks provide an inspirational kickoff before we move onto the Pitt campus!  We will have exhibits and sessions for the rest of the day at  Posvar Hall on the University of Pittsburgh campus, a seven-minute walk from Soldiers and Sailors.
The day at Posvar Hall will run as follows:
8 a.m. Exhibitors set-up
9:00 a.m. PCSS conference registration and exhibits open
Everyone would come over from Soldiers and Sailors at their own pace but the

 

first session starts at 10 a.m. and goes to 11:30 a.m., with opportunities for 30 minute or 60 minute sessions and 15 minute poster sessions throughout the day.
The

 

second session runs from 11:45 a.m. to 1:15 p.m.

 

Box lunches will be available in the exhibit area at 12:30 p.m.  The

 

third and final session runs from 1:30 p.m. to 3:00 p.m.
At the conclusion of the conference, PCSS will hold a light reception and raffle.  The PCSS Board then meets from 4 p.m. to 6 p.m. and it is open to all.  The Board meeting is followed by dinner on your own.
4:00 p.m.  PCSS Fall Board Meeting
Conference Registration
Conference Registration (Includes PCSS Breakfast and Lunch on 10/21/23)
REGISTRATION for PCSS Member (Join online for free)— $75.00
RETIRED/SPOUSE Registration— $50.00
STUDENT Registration (Join online for free)—$40.00
On-Site REGISTRATION—$100.00
Click Here to Download Registration Form  | .docx 
Mail registration and payment (Pay PCSS) to:  
PCSS, P.O. Box 294, ABINGTON, pa 19001
Or pay online at https://pcssonline.org/donations/
Questions?
Email [email protected] or call 717-571-7414
PURCHASE ORDERS: If registering by purchase order, please attach the PO # to this form. Payment should follow within 30 days.
 CANCELLATION POLICY:  No refund will be provided if cancellation occurs after October 1, 2023.  ALL CANCELLATIONS MUST BE IN WRITING (or email) AND EMAIL DATE/POSTMARK WILL BE USED TO DETERMINE APPLICABLE FEES.
Cannot attend on October 21st ?  Look for FREE Zoom sessions before and after as PCSS keeps the social studies juices flowing.
Questions?  Email [email protected] or call 717-571-7414