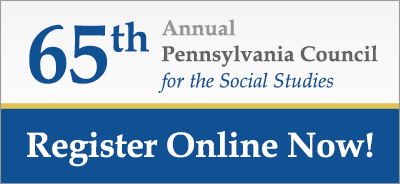 Important Links
Read Our Latest Newsletter
---
Upcoming Dates
October 18-20, 2018
PCSS State Conference (Harrisburg)
The 65th Annual Pennsylvania Council for the Social Studies Conference
October 18—October 20, 2018
Download Registration and Proposal Forms Below
2018 Registration Form (Word Doc)
2018 Proposal Form (Word Doc)
Please mail completed forms to pacouncilss at gmail.com.
Download Exhibitor Contract
Exhibitor's Contract (Word Doc)
Contact exhibit chair Jason Raia here: jason.raia@gmail.com | 610.933.8825 x.233
Need to make hotel reservations?
Special PCSS Conference Rate
Red Lion Hotel Harrisburg Hershey
4751 Lindle Rd Harrisburg PA 17111 US
redlion.com
Questions? Contact Dawn Stuart: Director of Sales | (717) 939-7841 | Dawn.Stuart@redlion.com
---

Pennsylvania Council for the Social Studies
PCSS promotes quality Social Studies education from kindergarten to higher learning by:
Advocating the Social Studies at all levels of education in Pennsylvania.
Promoting the analysis, dissemination and evaluation of Social Studies materials.
Examining and recommending certification requirements for teachers.
Assisting educators in organizing local Social Studies councils for professional development.
Cooperating with schools, districts, intermediate units and other interested parties on Social Studies projects.
---
Latest News from PCSS
Read Governor Wolf's message welcoming attendees to the 65Th Annual Pennsylvania Council for the Social Studies Conference.