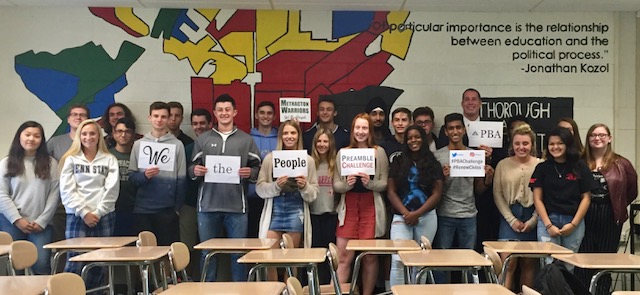 In 2004, Congress passed a measure requiring all educational institutions that receive federal money to offer students an instructional program on the U.S. Constitution each Sept. 17 (Constitution Day). The measure applies to all public and private institutions, including high schools, colleges and universities that receive federal money. There are many ways to fulfill that mandate.  One of PCSS's sponsors of the upcoming statewide conference, the Pennsylvania Bar Association, promotes the "Celebrate the Constitution" program to satisfy that requirement.
The Pennsylvania Bar Association is committed to civic and law-related education in Pennsylvania schools. Upon taking office in May 2018, 2018-19 PBA President Charles Eppolito III announced his plans to develop videos and lesson plans to support teachers' efforts to increase high school students' knowledge and understanding of our Constitution. Informed and engaged citizens are critical to the success of a republic.
"If a nation expects to be ignorant and free, in a state of civilization, it expects what never was and never will be."
—Thomas Jefferson.
Eppolito encourages attorneys and judges to visit local classrooms and talk with students about their responsibilities, the vital role of the judicial branch in our system of government and the many opportunities that exist for students to be civically engaged in their communities. We cannot take our freedoms for granted. Too many men and women have fought and sacrificed to ensure our American way of life, and civic education also plays an important role in preserving American democracy.
"The Constitution does not belong just to judges and attorneys. It is yours. And with this possession comes serious responsibilities. It is not just the President who must preserve, protect, and defend the Constitution. All of us must do so. But you cannot preserve what you do not revere; you cannot protect what you do not comprehend; you cannot defend what you do not know."
– U.S.  Supreme Court Justice Anthony Kennedy (retired)
We the People…
Many People. Many Beliefs. One Constitution.
Eppolito and the PBA are challenging Pennsylvania students to take the United States Preamble Challenge.
You will also want to see what our PCSS partner, the National Constitution Center, is doing for today and beyond by exploring its Interactive Constitution.
Finally, for elementary educators on both ends of the state, check out the attached flyers from another PCSS partner--the Rendell Center-- for its Constitutional Challenge.
Learn more about these programs when you come to the 65th Annual Pennsylvania Social Studies Statewide Conference, October 18-20, 2018, at the Red Lion Hotel Harrisburg East, 4751 Lindle Road. Harrisburg, PA 17111 right off the turnpike outside Harrisburg. Book your room now to get the conference price!