Hear from our STARR Leaders about the issues they care about.
STARR Leaders at Ditmas
In partnership with the Ditmas Writing Institute, hear three STARR leaders from Ditmas IS 62 in Brooklyn, NY talk about how they are learning to speak their minds, become more aware citizens, and empower those around them.
STARR Leaders Spotlight-Newsletter (PDF) | View or Download
---
Ditmas Starr leaders running Cultural Day
The lead coordinator is Sofia Rashid. Student Video Leaders Leila and Kaylyn. Principal of Ditmas Marielena Santiago, AP Planning Michelle Buitrago. Videographer Elliot Sefaradi. Event Publisher and Sponsor, Dr. Rose Cherie Reissman, Writing Institute and Simi Fund.
Kaylyn Clark, Ditmas IS 62, 7th Grader.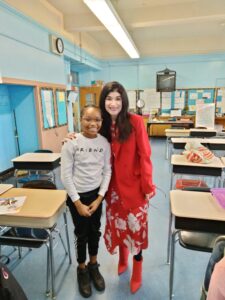 Kaylyn was a Student Leadership Council Member in the 6th grade at Ditmas. She was one of the lead students in the Kensington Stands with Kyiv Leadership Project developed by Amanda Xavier. Kaylyn was a winner of Writing Institute Award. In seventh grade she became a United Nations Middle School Ambassador (facilitated by Keitha Rhoden and Michelle Myers and NYC Mayor's Strategic Initiatives) and was the lead on a podcast about No Poverty and Zero Hunger SDGs . She co-anchored the podcast of the Ambassadors programmed produced by Marissa Silverman. She was head of the welcoming lead team for Ambassador Wallace visit to Ditmas. In June, she will network with students from over 40 schools in District 20 to share SDG and Student Leadership visions.
---
Ashfak Arabi—Flip Grid Speech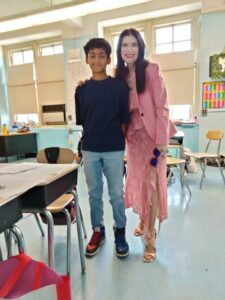 Imagine a world with affordable health care. A place where people are able to pay for medical bills without being in debt, or comfortably pay for medication without it affecting their ability to
pay for bills and expenses. But before we achieve this, lets pose some questions.
What is healthcare?
Why does it matter to us? Why are people struggling to pay for their medical bills? TThese are all questions we must ask ourselves. Affordable health care is essential for families in the U.S, struggling to pay for medical bills.
The real issue is how much needed healthcare….. is not affordable. Rising health care expenses both increase the government deficit and limit our capacity to invest in other crucial areas like economic growth, and education.
Read More | Download PDF
---
Abigail Figueroa—Climate Change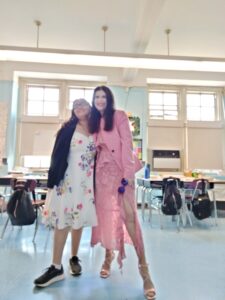 This far we are losing the war against climate change. If this loss becomes a defeat, we'll lose everything else.
Our trees are cut down just to make room for us humans. As we cut them down, we are destroying our home, Earth. So we are cutting our own existence?
Climate change is such a big issue because it destroys earth and if it causes the global temperature to rise more than 1.5 degrees, places like Florida will be submerged underwater by 2100.
Instead of focusing on the disastrous outcomes of a defeat in the climate change war, why not shift the lens to how a win in this conflict would look?
Read More | Download PDF
---
Liam—Junior Ambassador website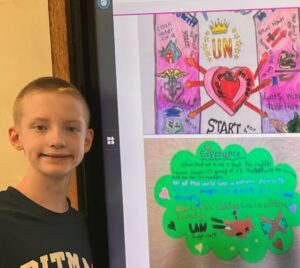 Liam began creating websites during the 2022-2023 school year. He is the first 12-year-old webmaster at Ditmas Jr. High School.
Liam doesn't know exactly what influenced him.
He is passionate about recycling and sustainability, and urban planning.
When Ditmas Trends was co-created by his peers and teachers, Liam wanted to help. One day he asked me if he could create a website. I said, yes!
Technology is a language that "just speaks to me." "I can just look at something and envision it and create it.
With a father who develops software, it seems that website design is in the DNA.
Stephanie Franzese, mentor Educator- Social Studies.
Angelo Carideo, mentor Educator- Social Studies media studio.
---
Step Aside, So Student Leaders Step Up
Download  | .docx
---
Sanitizing Reading
Author's Words Do Matter- Even in the 21st Century Inclusive and Sensitized Child Fiction Arena — Dr. Rose Reissman | Download .docx
Jacob Yevdayev | Download .docx
Brianna Garcia | Download .docx
Danyal Choudhry | Download .docx
Roald Dahl Publisher Bends to Controversy – The Hollywood Reporter. Controversy
https://www.hollywoodreporter.com/news/general-news/roald-dahl-controversy-changes-salman-rushdie-willy-wonka-1235333536/
Let Kids Read Roald Dahl's Books the Way He Wrote Them. 
https://www.thenation.com/article/culture/roald-dahl-edited/
---
Ditmas Junior Ambassador Program Keitha Rhoden, Michelle Myers, Dr. Reissman Producer Marissa Silverman
---
The magic of project based literacy that works so well and so deeply. Art, emotion, data, and reflection!! Why I still want to be with kids!
Junior Ambassador POEM | Download .docx
Junior Ambassador Program Documentation March 2023 Week 1 | Download .docx
JUNIOR AMBASSADORS PROGRAM Quote Inspirer Activity | Download .docx
Reaction the Heart SDG Emblem | Download .docx
---